A unified communication system for chat, video, telephony, and contact centers
Vidyo's unified communication solutions will give your enterprise and customers the productivity and business growth that they deserve.
DOWNLOAD SOLUTION BRIEF
SEE PRICING NOW
Stay connected with your team and instantly find the right expert for faster customer resolution
An unique unified communications solution that offers an elegant user experience for threaded, persistent chat and robust business video conferencing collaboration.
Start relevant discussions with your teams & clients with the best unified communication system
Private 1:1 chats connect you to the right expert for a quick answer.
Collaborate efficiently with your team by setting up group conversations and accelerating Customers' case resolution.
Transfer and share all your important files with your teams so that you never miss an important document and information, adding value to your customers .
Instantly search and find files, conversations, or experts to answer your clients' questions.
Show your customers that they are your top priority.
Reduce email clutter and save precious time to start conversations with your customers.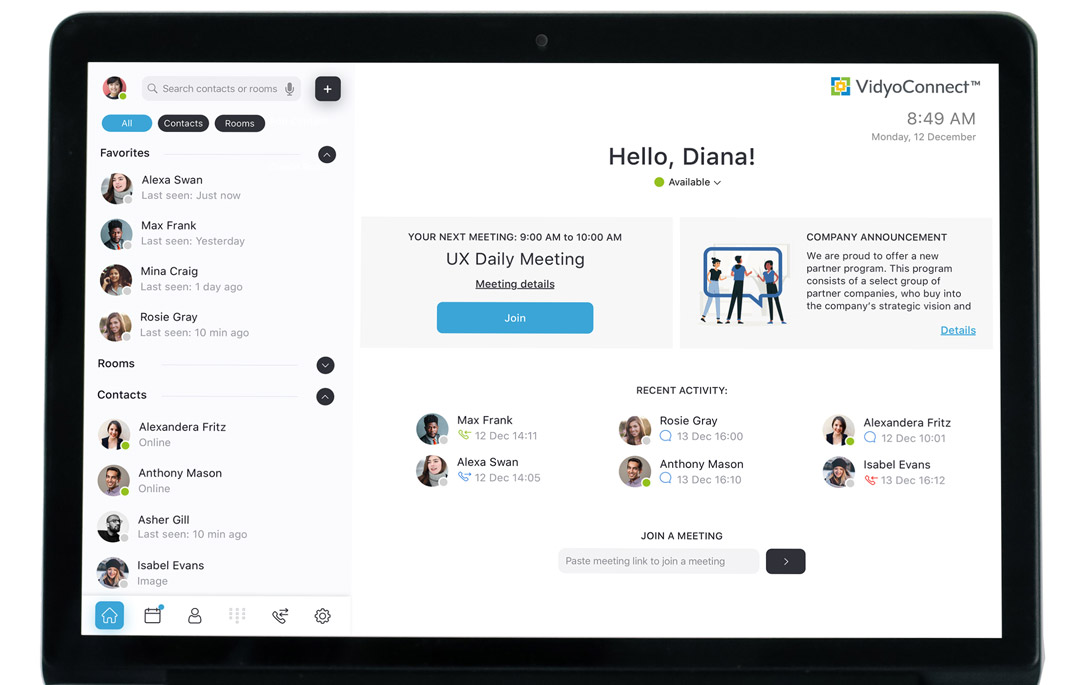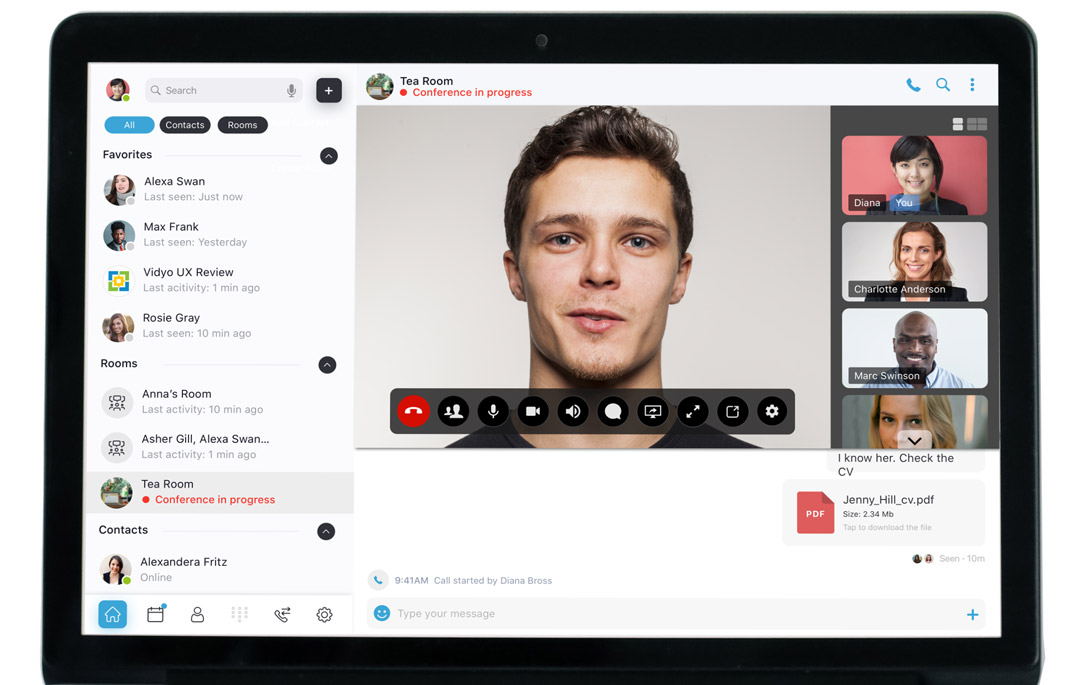 Collaborate over video and take care of your customers
Start business video conference meetings with clients and internal experts to create strong Human relationships for the moments that matter.
Robust, resilient, and optimized for mobile, collaborate with video from anywhere and any device.
Find the best expert in one second ask them to join your video meeting to answer directly to your customer.
Share several computer screens at the same time during your business video meeting to explain and resolve issues faster than ever.
Revolutionize the way you work with a unified communication system to empower employees and customers.
Video conferencing
Create an interactive relationship and increase your productivity
Multiple screen sharing
Guide your customers to help them efficiently
File sharing
Forward important documents to your teams and customers in a few seconds
Telephony
Never miss critical calls with our PBX functionality
Add in favorites
Follow important groups or people in your organization so you  never miss essential information
Availability status
Identify in a second who is the best expert available to answer your clients
Branding and White-Labeling:
create your own corporate experience
Boost the visibility of your brand and strengthen the loyalty of your customers while leveraging Vidyo's focus and expertise.
Collaborate in your own environment thanks to our open API
Facilitate the life of your employees integrating all our powerful collaboration features in their own environment.
Future-proof: Ensures that customers can distribute services across digital channels, devices, and interfaces.
Easier to update: Saves time by reusing code and taking advantage of public, published APIs (Application Programming Interfaces).
Leverages automation: Will work with leading automation applications that connect thousands of apps into workflows, making Vidyo's unified communication solutions more versatile, flexible, and easy to use.
Opens revenue streams: Facilitates the adoption of the platform economy, digitization, automation, and IoT (Internet of Things).
Easy to use Microservices Architecture
Empower engineers with the ability to easily scale up or down following a specific element's requirements.
Offer a true CI/CD communication environment to enterprise customers.
Fast-track deployment by easily building and testing individual components.
Increase profitability and free up developer resources with the ability to modify services without rebuilding the entire application.
Equip customers with revolutionary technology by providing fast and controlled upgrades without slowing down or halting the apps.
Complete and Hosted Telephony Services
Seamless integration of telephony and collaboration
Vidyo's unified communication solutions provide you a complete and powerful telephony solution.
Never miss a call with important people. Thanks to our PBX functionality, always reach the right expert in a minute anywhere, anytime from any device (Find Me / Follow Me, SimRing, Extension Dialing, Hunt/Ring Groups).
Benefit from new end numbers or toll free numbers for customers.
Facilitate local number porting or toll free porting.
Start & Improve your Customers' satisfaction right now
Benefit from a complete bundle solution from $5.99/ User / Month
Unlimited persistent messaging,

1:1 video calling,

Up to 200 participants per Voice/Video group meetings,

Group Meetings length: unlimited,

Multiple screen Sharing,

Scheduled and ad-hoc meetings,

Join from mobile app, desktop app or browser,

Secured working: All content is encrypted during transport and at rest,

Includes standard support.

Minimum 10 users

Requires annual subscription – not for On premise
Everything in Business AND

Telephony features including => (PSTN) calling minutes, Find Me/Follow Me, SimRing, Call Forwarding, Voicemail, and Extension Dialling.

Includes 2,500 minutes of regular phone ( PSTN) calling within North America. – Long Distance and other PSTN: Additional Packages.

Includes standard support.

Optional purchase of SIP hardphone for those that prefer a deskphone over a softphone.

Minimum 10 users

Requires annual subscription.
Common Room "User"
per agent
Conference rooms,

Hallway phone,

Warehouse phone,

Include standard support.

Requires annual subscription.

Requires a hardphone.