Video Conferencing APIs for the Vidyo Platform
Bring personal human interaction to your app by adding high quality video communications. Using Vidyo's video conferencing APIs for websites and mobile devices, you can rapidly embed rich communications into any web, mobile, or desktop app.
Extreme Reliability
Reduce frustration and increase engagement for users of your app with reliable video communication
Fully Customizable
Deliver a fully integrated user experience while maintaining your brand with flexible customization
Mobile Optimized SDK
Mobile device users experience uncompromising video quality with highly optimized mobile SDKs
Are You a Developer?
VidyoPlatform empowers developers to rapidly embed group video chat into mobile, web, and desktop apps.
CHECK OUT OUR API PLATFORM
Vidyo Powers Communications Across Industries
Healthcare
Deliver Care Through Telehealth
With embedded video communication, healthcare providers can extend care beyond the confines of the clinic. Video drives increased access while simultaneously improving patient satisfaction, clinical efficiency, and continuity of care at a lower cost.
Video-enabled conferencing solutions ensure providers can deliver patients with the personal care they need, providing the opportunity to facilitate multi-specialty and multi-disciplinary clinical collaboration. This online collaboration not only helps to improve the outcome of complex medical cases but also optimizes hospital resources and staff management
Financial Services
Improve Customer Loyalty
Embedded video communication creates a human connection letting you develop strong relationships with your customer while also providing the convenience of online banking.
By incorporating video solutions in physical offices, institutions can optimize their branch staff and resources while giving their clients the personal touch they have come to expect from their banking experience.
Customer Service
Better First Call Resolution
Video communication provides more clarity than voice or text alone and allows people to see body language and facial expressions. Now you can confidently resolve your customer's issue the first time.
Many clients like the convenience of chatting with a consultant when it's most convenient for them, and video conferencing gives them the ability to do that. When institutions adopt these newer technologies, many of them see shorter sales cycles and stronger customer relationships than if simply having a voice or messaging platform.
Education
Engaged Online Learning
Bring educators and students together through video-enabled online learning. With embedded video, educators can see if students are engaged or if they need to spend more time on a topic. The high-quality video collaboration experience reduces any in-class distractions or interruptions, allowing students to get the most out of their class time.
Thanks to Vidyo's video conferencing API reliability, students are guaranteed safe and sustainable methods to communicate and collaborate regularly.
Field Services
See-What-I-See With Remote Experts
With Vidyo video conferencing APIs, field services resources can effectively reduce downtime, improve quality, speed troubleshooting, and improve response times. Our solutions enable field resources to communicate face-to-face with centralized support teams over a variety of mobile endpoints, even over low quality bandwidth. This "see what I see" capability provides visual support with real-time experts without the need for travel.
See why enterprises and startups alike rely on Vidyo for all their interactive video needs
Faster time to market
Vidyo's video conferencing API for websites and mobile can dramatically simplify the complexity of building enterprise-grade interactive video into any application. This technology will reduce the costs associated with deploying and maintaining the supporting infrastructure. It empowers organizations to rapidly embed group video chats into mobile, web, and desktop apps.
Employing cost-effective solutions doesn't have to mean sacrificing quality. Vidyo's infrastructure provides an advanced and cost-effective video conferencing platform. Everything from hardware appliances to software running in virtualized server environments, Vidyo's infrastructure delivers enterprise-grade video quality, healthcare-grade privacy, and industry-leading reliability.
You will experience a shorter time to market and reduced bugs with consistent API supporting all major platforms. Best of all, Vidyo's video conferencing API for websites and mobile devices is powered by a global real-time video network that delivers highly reliable video calls with video.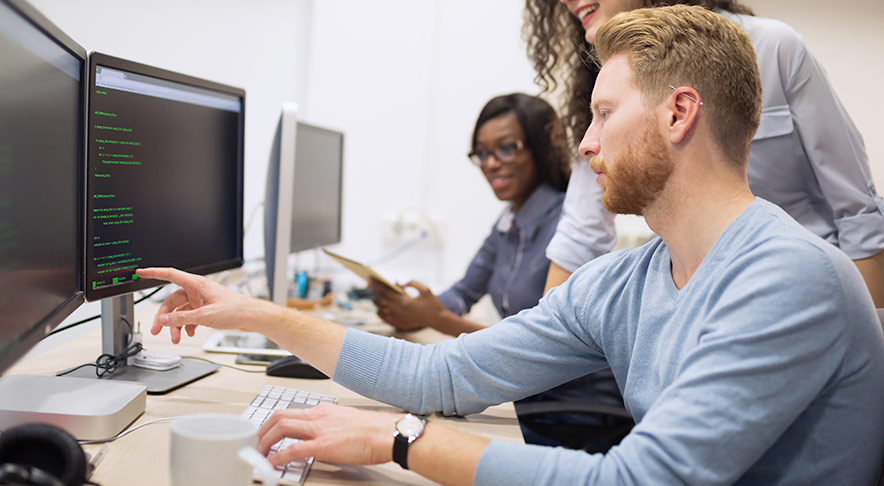 Unburden your developers
Vidyo's video conferencing API is designed for developers to easily customize and integrate group video communications without requiring them to become video experts. Vidyo's team of specialists is available to provide guidance and make the integration process quick and easy.
Developers can focus their expertise on building a great app and use their time effectively. With a cloud-hosted option, your developers will be able to rapidly embed group video chat into mobile, web, and desktop apps. Vidyo has developed video conferencing APIs for websites and mobile devices to allow for easier integration into existing systems than ever before.
Integrating enterprise collaboration software allows developers to create a custom experience for all users and enhance online collaboration across the workplace. Video-enabled meetings are a great way to present conferences and seminars, staff meetings, and conventions while significantly reducing hosting costs, air travel, and hotel stays.
Another benefit is the ability to standardize employee training methods within your organization. Access to live video conferencing allows staff access to experts across the globe and enhances overall training standards.
Imagine the Business Impact of Real-Time Video on Your App
Improved Net Promoter Scores
Higher Customer Satisfaction
Communication Enabled Workflows